Feeding your hedgehog
I have decided to dedicate an entire page about feeding your hedgehog. Some aspects of hedgehog nutrition like the recommended daily allowance of vitamins and minerals have not been researched and are somewhat of a mystery. However, other aspects of their nutrition are not so mysterious and are available for you to research. Any recommendations for your hedgehog's care should be supported by scientific research and data.
There are many websites that offer misguided information regarding diet and nutrition. I feel that if you understand the science behind your hedgehog, then you will make better food choices for your hedgehog's care.
Hedgehog Nutrition:
Hedgehogs are prone to obesity so their diets should be monitored carefully. Captive diets based on nutritionally
balanced cat food with moderate levels of protein (30%–50%, dry basis) and low fat (15%–20%) are suitable.
It is not advised to feed hedgehogs a cat food containing peas or pea fiber due to the high levels of phosphorus.
When a hedgehog consumes too much phosphorus, it will inhibit calcium absorption in the bones as well as cause
kidney damage. We recommend using Kirkland All stages cat food (available at Costco) or our mix with Spike's Ultra (we can ship our mix to you).
We used to recommend Wellness Complete Health "Healthy Weight" cat food (purple and yellow bag) or Simply Nourish Adult Chicken & Rice (only available at Petsmart) However there is more plant matter. If your hedgie is already eating Wellness Healthy Weight or Simply Nourish, please switching to Kirkland Maintenance cat food or our food mix.

Please also avoid foods that contain the following preservatives as they are either TOXIC or are KNOWN CARCINOGENS:
Ethoxyquin
Sodium Nitrate / Sodium Nitrite
Propylene Glycol
Butylated hydroxyanisole (BHA) / butylated hydroxytoluene (BHT)
Benzoic Acid / Sodium Benzoate /Potassium Benzoate
Menadione Sodium Bisulfite
In addition to cat food, hedgehogs need bugs or meal worms in their diet. According to the Journal of nutrition,
Hedgehogs have enzymatic ability to digest chitin from insect exoskeletons as a dietary fiber source, but they do not
seem to digest cellulose (plant matter) efficiently. Fiber in the diet is important for proper fat and protein metabolism.
Therefore, it is important to add at 1 tsp of fresh or freeze dried meal worms or other insects to your hedgehog's diet daily.
DO NOT FEED YOUR HEDGEHOG FRUITS or VEGETABLES!
Hedgehogs can't digest cellulose (plant matter) efficiently. Feeding the African Pygmy Hedgehog fruits or veggies can put your hedgehog at risk. A breeder has a recent necropsy report on a hedgehog that died from eating strawberries! The seeds impacted the small intestine, stopped the blood supply, and killed the hedgehog.
NOTE: Feeding your hedgehog the following will VOID the health guarantee: Fruits or Vegetables, commercially prepared hedgehog food or using food that contains Peas or pea fiber in the first 8 ingredients.

If hedgehogs are insect eaters, why do we feed them cat food?
The simple answer is because the farm raised insects (live or dried) we use are raised in a habitat that makes them void of any real nutrition. The daily dose of mealworms is to just add the chitin hedgehogs need as their dietary fiber source. Even if you gut load live insects, it is difficult to determine if your hedgehog has received a balance diet. Feeding a pea-free cat food supplements your hedgehog with the necessary proteins, fats, vitamins and minerals. It is important to feed pea-free cat food as mealworms are high in phosphorus too. A shift in the calcium/phosphorus ratio is bad for the bones and kidneys.
What cat food should I feed my hedgehog?
​
Currently we feed our hedgehogs Costco's Kirkland Super Premium Maintenance Cat (chicken and rice). It is quite a large bag and if you don't have a cat to share it with, take out 5-6 pounds and store in a sealed storage container. Take the remaining bag of cat food and donate to a local shelter. The bag will go rancid before your hedgehog will consume the 25 pound bag. Costco's food runs about $20 for 25 pounds compared to other brands at $15 for 3 pounds. So, if you have a membership to Costco, do something good for your hedgehog!
If you don't have a Costco​​ member ship there are a few other choices of pea or legume-free cat foods.
​​
~This is pretty much chicken and rice as the bag says!
~Pea and Pea fiber FREE!​​
~ There is a little bit more fat than I would like to see but supplemented with a daily dose of chitin and we just don't see issues with our hedgehogs weight.
Ingredients: Chicken, chicken meal, whole grain brown rice, ground white rice, chicken fat (preserved with mixed tocopherols), natural chicken flavor, flaxseed, sodium bisulfate, potassium chloride, choline chloride, taurine, dried chicory root, zinc proteinate, vitamin E supplement, niacin, manganese proteinate, copper proteinate, zinc sulfate, manganese sulfate, copper sulfate, thiamine mononitrate, vitamin A supplement, biotin, potassium iodide, calcium pantothenate, riboflavin, pyridoxine hydrochloride (vitamin B6), vitamin B12 supplement, manganous oxide, sodium selenite, vitamin D supplement, folic acid.
Crude Protein 30.00% min
Crude Fat 20.00% min
Crude Fiber 3.00% max
Moisture 10.00% max
Magnesium 0.10% max
Selenium 0.4 mg/kg min
Vitamin E 100 IU/kg min
Taurine 0.10% min
Omega-6 Fatty Acids* 3.30% min
Omega-3 Fatty Acids* 0.50% min
*Not recognized as an essential nutrient by the AAFCO Cat Food Nutrient Profile. ​​
Kirkland Super Premium Maintenance Cat Food
Simply Nourish Adult Chicken and Rice
​
~Pea and Pea fiber FREE!​​
~ There is a little bit more fruits and veggies in the recipe than I prefer for a hedgehog (see "why can't hedgehogs be fed fruits and veggies").
Ingredients: Chicken, Chicken Meal, Rice Flour, Canola Oil (preserved with mixed tocopherols), Natural Flavor, Tomato Pomace, Oatmeal, Dried Chicory Root, Flaxseed, Dried Cranberries, Dried Carrots, Dried Sweet Potatoes, Vitamins (Vitamin E Supplement, Niacin, L-ascorbyl-polyphosphate, Vitamin A Supplement, D-Calcium Pantothenate, Thiamin Mononitrate, Riboflavin, Pyridoxine Hydrochloride, Vitamin D Supplement, Folic Acid, Biotin, Vitamin B12 Supplement), Minerals (Zinc Sulfate, Ferric Sulfate, Copper Sulfate, Manganese Sulfate, Calcium Iodate, Sodium Selenite), Choline Chloride, Potassium Chloride, Taurine
Guaranteed Analysis:
Crude Protein Not less than 36.0%
Crude Fat Not less than 16.0%
Crude Fiber Not more than 3.0%
Moisture Not more than 10.0%
Ash Not more than 6.5%
Calcium Not less than 1.2%
Phosphorus Not less than 1.0%
Potassium Not less than 0.60%
Magnesium Not more than 0.1%
Zinc Not less than 175 mg/kg
Selenium Not less than 0.30 mg/kg
Vitamin A Not less than 30,000 IU/kg
Vitamin E Not less than 350 IU/KG
Taurine *Not less than 0.20%
Omega-6 Fatty Acids*Not less than 3.0%
Omega-3 Fatty Acids*Not less than 0.75%
Ascorbic Acid (Vitamin C)*Not less than 10 mg/kg
Beta carotene*Not less than 3.0 mg/kg
Lycopene*Not less than 0.5 mg/kg
Text credited to: Nicolette Sprauer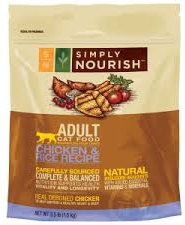 ​Why can't hedgehogs be fed fruits and veggies?
​
Hedgehogs are missing a cecum which is a clue into the insect diet ​in which hedgehogs evolved on. The cecum, located at the beginning ​of the large intestine, is a pouch of bacteria that digests cellulose ​(plant matter). Without a cecum, hedgehogs can't properly digest ​plant matter. If you take a look at an herbivore, a plant eating animal, ​they have evolved to have a very large cecum. Nature tells us that if a ​hedgehog was meant to be eating fruits and veggies as their source​ of fiber, they would have evolved to have a cecum.
​
Feeding your hedgehog fruits and vegetables can be dangerous. Where​ the hedgehogs' small intestine ends, the hedgehog is missing a valve ​that prevents food in the large intestine from returning to the small intestine. ​Undigested plant matter (fruits and veggies) can swish back and forth
​between the small and large intestine and give your hedgehog a belly ​ache or worse cause impaction.
​
The insect eating hedgehog has a digestive enzyme called chitinase ​which allows the hedgehog to utilize chitin (only found in the exoskeleton ​of bugs) as their fiber source. They don't need fruits and veggies because ​their dietary source of fiber comes from the crunchy outer layer of bugs.
Spike's Ultra can be ordered directly from
Mention my name
Crysta Pagniano
for a 10% discount.
3 lb bag of Hedgehog mix Food