Christmas Babies & Adults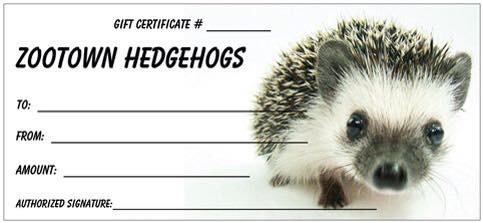 How to Reserve a Baby or Adult:

Step 1: Please click the reserve button on the baby your would like to reserve. Remember to include the ZTHH-ID number on the reservation application. If there isn't a baby available please click the link below and indicate "waitlist" in the ID box on the application.

Step 2: Once you have chosen a baby, you can submit your $50.00 deposit directly from the confirmation page. The non-refundable deposit goes towards the purchase price of the baby, which will range from $200.00 to $300.00 (please see each individual baby for pricing. You don't need to have a Paypal account; you can pay as a guest. The hedgehog will NOT be held without a deposit. **Please note it is the same procedure with Adult adoptions except the deposit is $25.00.
Step 3: Once the Paypal deposit has been received, your hedgehog's photo and information will be removed from the website. Your baby will be ready to take home on the date posted in the hedgehog's description. I will email you about a week before the "go home date" with a list of our available appointment times.
We only accept CASH for the balance on the hedgehog and any supplies.
Photos of babies are taken between 3 1/2 and 7 weeks of age. Please note their color can change as they grow.
Please note we do NOT sell babies or adults for breeding purposes, unless you are a USDA licensed breeder that we know and trust. You will need to sign a non-breeding contract with us upon pick up of your baby or adult. If we are shipping your hedgie, we will email you the forms. The forms must be returned prior to shipment.
All Babies come with:
~ genetic Health Guarantee through 6 months old
~Lifetime Guarantee against WHS (with necrospy)
~Baggie of food
~Care Sheets
~Lifetime post sale support

We do allow visitation to ensure that all of our hedgehogs stay healthy!
Page Last Updated 6:49 PM Mountain 12/23/2019

We also offer Gift Certificates!!
Our Yearly Tradition continues....Each Hedgehog Parent will go home with a Christmas Stocking for their new family member!!

We will have more adults going up for sale by end of month, as well as more babies. All will be ready to go home by 01/17/20.

We also offer Gift Certificates!